George Nicholls, trading as Laser Roofing London and South East Roofing Limited, was fined after footing a double extension ladder on a transit van in order to access a third floor façade on 14 March 2013.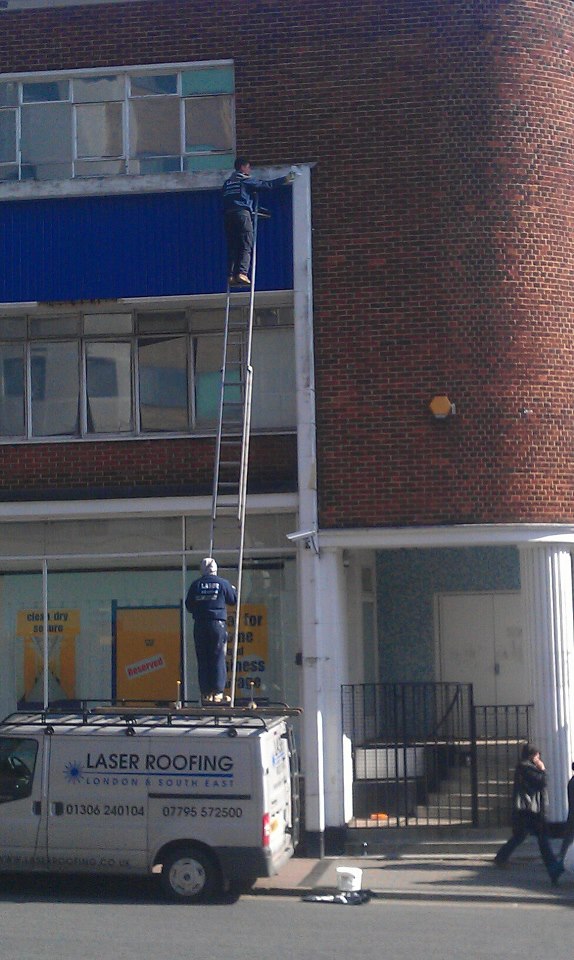 The circumstances were:
Mr Nicholls had been sub-contracted by Norfolk-based Maintenance 24-7 Ltd for the paint job because the company did not possess the correct equipment or expertise.

A pavement licence should have been obtained to create a properly segregated safe-working area, but was not.

Therefore, there was no form of segregation to prevent vehicles or pedestrians from passing under or near the work area.

Ladders were specified as the chosen method of work.

Scaffolding or a mobile elevated work platform would have provided a safer option for accessing the façade.

After the finding the façade was higher than the ladder he had with him, the roofer opted to improvise.

He placed it on the roof of his van and worked from it fully-extended some eight metres above the ground with a labourer providing the footing.
Maintenance 24-7 Ltd, was fined £10,784 (inc. costs.)
George Nicholls was fined £4,666 (inc. costs).
The HSE Inspector said:
"The photographic evidence speaks for itself in terms of the risks created. Anyone can see the system of work is plain wrong, so why a supposedly competent roofer chose to work in this way is anyone's guess. George Nicholls blatantly and recklessly risked harming himself and others, and he did so on behalf of Maintenance 24-7 Ltd, who had clear duties of their own to ensure the work at height was properly planned, managed and executed in a safe manner. The standards of both parties fell far below those required, and I would like to thank the concerned member of the public who initially brought the matter to the council's attention."