Scrap metal firm
Ultimate Traders Ltd,
were given a nominal fine
and its director a suspended sentence after a worker suffered severe injuries to his left arm when it became stuck in a forklift truck.
On 8 November 2013 Nasir Rashid

told to stand on the forks on the truck to help move scrap cars into the back of a shipping container at the

Ultimate Traders. site in Manchester.

His arm became trapped in the mast of the truck.

He remained trapped for over two hours

.

It took the combined effort of three fire crews, a specialist major rescue unit, two air ambulances, a medical team from Manchester Royal Infirmary and three ambulance crews to rescue him.

He sustained nerve damage to his left arm which makes it difficult for him to grip or lift items, and was in hospital for nearly two months.

He still needs to visit Manchester Royal Infirmary for treatment and has been unable to return to work due to the extent of his injuries.

Ultimate Traders

failed to report the incident to HSE for nearly three months, despite being told on several occasions that this was a legal requirement.

Ultimate Traders Ltd, was given a nominal fine of £2 after discussion concerning the company's finances.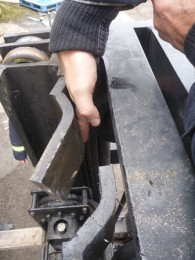 The gap in which the injured man's arm was trapped
The HSE Inspector said:
"The worker remained trapped for over two hours while the emergency services battled to cut him free, but this incident could easily have been avoided.
Ultimate Traders and Nasir Rashid had a legal responsibility to make sure the worker stayed safe, but instead he was instructed to climb onto the forks of a forklift truck to move scrap cars into a container. He suffered severe injuries as a result which will affect him for the rest of his life.
Workers should never be allowed to stand directly on the forks on a forklift truck because of the risk of them falling or being injured by moving parts on the mast. This case should act as a warning to firms that they will find themselves in court if they do not take the safety of workers seriously."