Mark Anton Arabaje, sole director of now-dissolved company Cartwright Projects Ltd.,
was given a 4-month suspended sentence and ordered to pay £5,000 compensation after a worker lost his right forearm when it got caught in an unguarded tyre-shredding machine.
The circumstances were: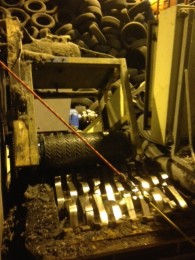 Mr

Arabaje had removed

removed the metal bucket guard of the shredding machine earlier the same month as the accident, thus allowing easy access to the metal teeth.

On

27 November 2013,

Nathan Johnson was feeding this machine.

There were no emergency stop switches within his reach.

He had been putting tyres by hand into the shredder when the machine failed to grip one properly on its metal teeth. Mr Johnson grabbed the remaining half and fed it in.

At that point, his right jacket sleeve got entangled on the metal teeth and his fingers and then forearm were dragged into the running shredder.

As Mr Johnson screamed for help, Mr Arabaje came and managed to switch the machine off and freed him from the machine.

He lost the forearm up to his elbow and needed extensive hospital treatment, including skin grafts from his left leg to replace the remains of his arm and a bolt in his elbow to ensure it remained intact.
The HSE stated that it would have also prosecuted the company had it still existed.
The HSE Inspector said:
"Nathan Johnson would never have suffered these horrific, life-changing injuries if Mr Arabaje, the company director, had not removed the guard from the tyre-shredder.
Company directors need to take their health and safety responsibilities seriously to prevent such tragic events occurring in the future. They have a significant role to play in protecting workers from injury at work; and this case demonstrates that such incidents can and do lead to directors being prosecuted if there is evidence of their consent, connivance or neglect to breaches in the law."